ISAS hopes to establish linkages with the global South Asian diaspora through the South Asian Link (SAL) newsletter. The SAL newsletter provides a platform for the global South Asian diaspora to share their experiences and stories in an interesting, bite-sized format. It also helps in the appreciation and understanding of the diversified South Asian diaspora. The SAL newsletter is part of the South Asian diaspora networking platform, launched by ISAS in November 2009.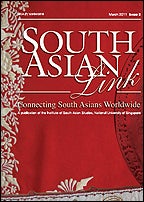 ​
Second Issue (March 2011) ​
A myriad of South Asian communities have long been a feature of the Singaporean social landscape. Many of these 'minorities within a minority' contribute to the vibrant and cosmopolitan culture that Singapore is known for. In keeping with the spirit of the South Asian Link, this issue highlights the resident Bangladeshi and Nepalese communities in Singapore, as well as celebrates the history and contributions of the Singaporean Parsi diaspora as we commemorate with them, the Jamshedi Navroze, or Parsi New Year......

​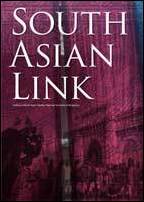 ​
First Issue (April 2010) ​
In the past few years, Singapore has been the location for a flurry of activities connected with the worldwide South Asian diaspora. In 2006, the National University of Singapore produced the Encyclopedia of the Indian Diaspora, probably the most comprehensive and authoritative account of the global South Asian diaspora to date. Several communities organised and held international meetings in Singapore. For instance, in 2007, the 14th International Sindhi Sammelan witnessed about 650 Sindhis from all over the world converging in Singapore for their annual conference. .....

​